ITERATIVE MEMORIES OF CANTOR DUST MAN cycle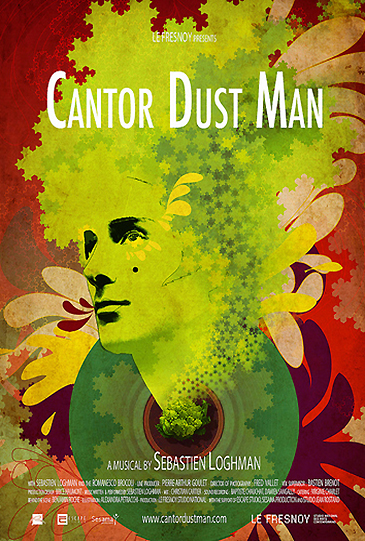 Musical film – 6' – 2009
Produced by Le Fresnoy – National Studio of Contemporary Arts, Sesama Production
Direction, acting, screenplay, editing, music : Sebastien Loghman
★Canal Plus Award – 24th Brest European Short Film Festival, FRANCE

In contact with a flavour which he formerly knew, a man is taken by the stream of his thought. Invaded by the plurality of his being that this memory reveals, he penetrates into the depths of his memory, investigating the borders of his internal universe. Mixiing American tradition of music, the melancholic contemporary and aesthetic digital avant-garde, Cantor Dust Man stages a colored and poetic universe, enchanted with the words of the music.
Cantor Dust Man is a knowing mix of American 'musical', avant-guard digital explorations and aesthetic melancholy, inviting us into a colorful world of poetry where music and words take pride of place.
NB : Like its film sequel PUZZLE, Cantor Dust Man tells the story of Romanesco. It is a direct adaptation of the portrait Envisager (2003) by Sebastien Loghman that takes part of the "Iterative Memories of Cantor Dust Man" cycle, a transmedia project extending the Romanesco's universe.
---
---
TV BROADCAST
★ Canal Plus ★ Eurochannel ★ Orange Video Party ★ Arte creative TV
SELECTIONS IN ACADEMY AWARD-QUALIFYING FESTIVALS
• Côté Court, Pantin, FR (2010)
• 17th Stuttgart International Festival of Animated Film – Internationales Trickfilm, GERMANY (2010)
• Namur Film Festival, BELGIUM (2010)
• Lille International Short FIlm Festival, FR(2009)
• 24th Brest European Short Film Festival, FR (2009)
FESTIVALS, EXPOSITIONS, PROJECTIONS
2023 • exhibition Des Histoires Vraie, MAC VAL – Val de Marne Contemporary Art Museum
2022 • Screening of Sebastien Loghman's films at Sorbonne-Nouvelle's Cinematheque, Paris, FRANCE – with art critic Juliette Soulez
2020 • Masterclass by Sebastien Loghman and screening of his films at Paris College of Art, Paris, FRANCE
---